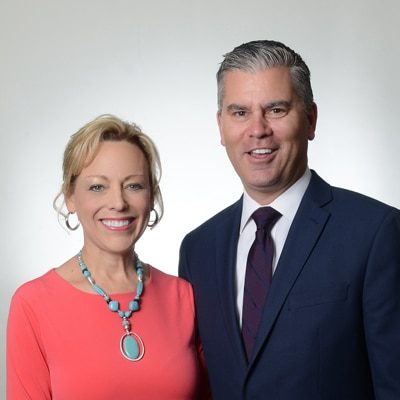 Founders
Robert & Danielle Kauffman D.C.
Dr. Kauffman is a native of the Detroit area and was introduced to chiropractic care at a young age through effective treatment of numerous sports injuries. After getting good results with chiropractic care and some good advice from his father, a chiropractic patient himself, he chose chiropractic as a career.
Dr. Robert Kauffman was enticed by the challenge of getting people better, especially athletes, without the use of drugs or surgery. He excelled in the sciences and obtained a Bachelor of Science Degree from Michigan State University, in their Pre-Med program.
He was accepted into Palmer College of Chiropractic, the oldest and largest Chiropractic College in the world. It is at Palmer where the two chiropractors met. Drs. Robert and Danielle Kauffman came to the region in 1989 after graduating from Palmer College of Chiropractic. After opening their first office in Merrillville, and practicing together for 6 years, Kauffman Chiropractic branched out to Lakes of the Four Seasons in 1995. The practices and the area experienced tremendous growth during this time.
In the year 2000, Drs. Robert and Danielle Kauffman built a building at 7620 East 109th Ave, in the new town of Crown Point, on the corner of Randolph and 109th. Kauffman Chiropractic in Merrillville followed soon after in 2002, building a twin building on 84th Drive off of Broadway, between Applebee's and Meijer. Whether you're on your way to or from work, or have some time during the day, either office is conveniently located for your needs.
The Kauffman's have managed to balance family and careers, staying actively involved in school, church and their kid's sports activities. Their children Nick, Kristina and Michael have decided to follow in their parents' footsteps and become chiropractors. Nick and Kristina and Michael graduated from Palmer College of Chiropractic and have followed in their family's footsteps. Dr. Nick practices at the Merrillville Location and Drs. Kristina and Michael in Winfield.
Dr. Kauffman is a native of Quebec City, Canada. While pursuing a degree in pre-med at Laval University in Quebec, she was introduced to a lifelong friend of her mothers who had a small chiropractic practice.
This woman took the time to explain chiropractic to her and how she could have a great practice but also a home life and family. The seed was planted and Dr. Danielle soon was applying to Palmer College. The challenges the awaited her in coming to a new country, learning a new language, graduating from Palmer and eventually becoming an American Citizen helped her become the excellent chiropractor that she is today.
The Kauffmans look forward to leading the Region to healthy, mobile, pain-free lifestyles for generations.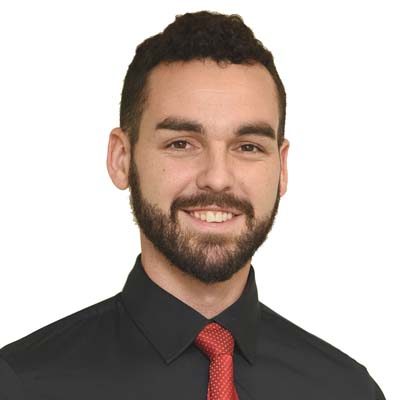 Chiropractor
michael kauffman D.C.
Dr. Michael Kauffman was born in October of 1993 and is the youngest of the three Kauffman siblings, all chiropractors. He attended Indiana University Bloomington and graduated Palmer college of chiropractic in 2018. In his free time he enjoys playing classical guitar, along with basketball and golf. He is past Vice President of Delta Delta Pi professional chiropractic fraternity.
Chiropractor
Nicholas Kauffman D.C.
MERRILLVILLE LOCATION
Dr. Kauffman was born in Davenport, IA in 1989 to Robert & Danielle. Dr. Nick later returned to IA to graduate in 2014 and join the family practice. Following in the footsteps of his parents, Dr. Nick enjoys learning about the human body and promoting spinal healthcare. However has been immersed in the profession since childhood. Hobbies include building computers, fishing, long boarding, and reading.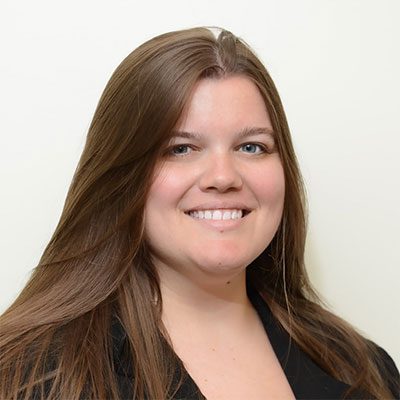 Chiropractor
Kelsi Dimitt D.C.
CROWN POINT LOCATION
Dr. Dimitt is a native of Tippecanoe County. She was introduced to chiropractic while attending Purdue University. During those college years, she decided to attend Logan University where she fell in love with the results of chiropractic care after her very first adjustment. She graduated from Purdue with a Neurobiology and Physiology Degree and was accepted to Logan University to receive her Bachelors in Human Biology and her Doctor of Chiropractic Degree.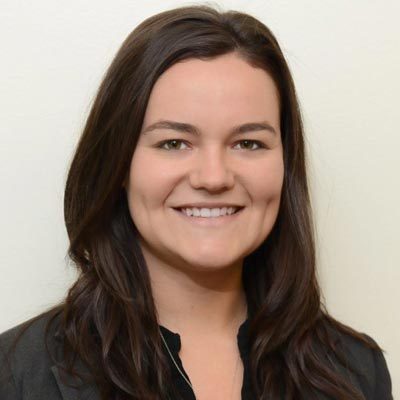 Chiropractor
Kristina Kauffman D.C.
CROWN POINT LOCATION
Dr. Kristina Kauffman is the second of 3 children to Robert and Danielle Kauffman. She grew up in the middle of 2 brothers, having an active athletic life from a young age. While attending Andrean High School, she lettered in tennis, track and basketball and excelled academically.
She completed her Chiropractic pre-requisite requirements at Indiana University, Bloomington and continued on to attend Palmer College of Chiropractic in Davenport, Iowa. While receiving her Doctor of Chiropractic degree, she decided to expand upon her longstanding practice of yoga and complete her 200-hour teacher training, after which she began teaching hot yoga classes and utilizing the postures with her patients. She joined the family practice in Crown Point, Indiana in February of 2016.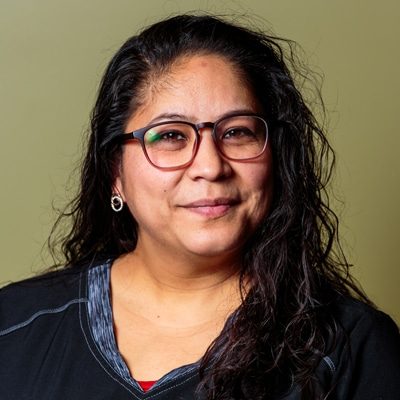 Chiropractic Assistant
Miriam Ortega
CROWN POINT LOCATION
Miriam is the Rehab Therapist for the office in Crown Point. She graduated from Everest College as a Massage Therapist and has been working with Kauffman Chiropractic since August 2007. She loves working in wellness and truly believes in chiropractic care. Since she started treatment, she has been pain free! She loves working with patients and seeing them progress. Miriam also enjoys being part of the Kauffman Chiropractic Team.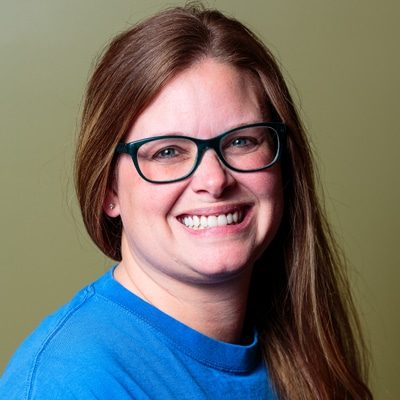 Chiropractic Assistant
Rebecca Mihalik
CROWN POINT & MERRILLVILLE LOCATIONS
Rebecca has been working with Kauffman Chiropractic since May 2009 doing marketing and events. She currently helps both locations with the insurance and billing. She is new to chiropractic. Rebecca believes in chiroprapractic cafre since she became a client in February 2009. She has a bachelors in Business Management and has 11 years of experience of doing billing for multiple types of businesses.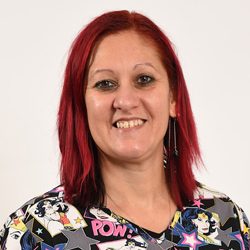 Chiropractic Assistant & Massage Therapist
Dianna Mitrovic
MERRILLVILLE LOCATION
Dianna graduated from Everest College as a massage therapist. She has been at Kauffman Chiropractic as a chiropractic assistant since April of 2011. She gets adjusted to find out it works wonders. She used to get bad knee and neck pain but now has no pain!
Chiropractic Assistant & Massage Therapist
Ashley Chaja
MERRILLVILLE LOCATION
Ashley graduated from Everest College in October 2010 as a Massage Therapist. She has been with the team at Kauffman Chiropractic since August 2011. Patient care is her #1 priority. She loves seeing patients get back to their daily activities pain free!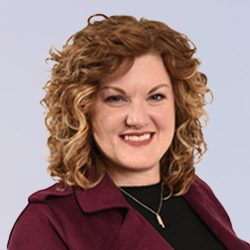 Practice Representative
Amber Venegas
CROWN POINT & MERRILLVILLE LOCATIONS
Amber is a native of Guin, AL. She relocated to Northwest Indiana to attend college. She graduated with a Bachelor's Degree in 2006 from Hyles-Anderson College in Crown Point, IN. Amber was first introduced to chiropractic treatment at the age of 10 following a car accident. Since that time she has been excited to share her excitement for chiropractic treatment.
CHIROPRACTIC ASSISTANT & MASSAGE THERAPIST
Bianca Romero
My name is Bianca Romero, I'm from Hammond Indiana, I've been a therapist for 10 years and I love natural healing. I love helping people feel better & leading them to natural healing - that is why I love chiropractic care!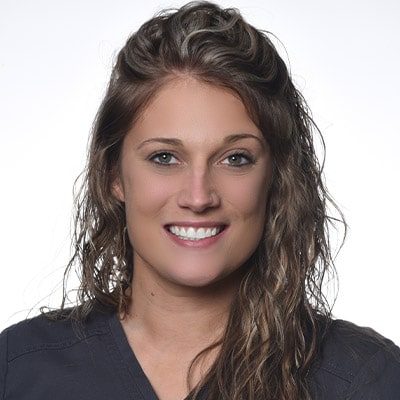 CHIROPRACTIC ASSISTANT
Nicolette Stavrakis
MERRILLVILLE LOCATION
My name is Nicolette. I currently live in Portage, IN. I am a chiropractic assistant here at Kauffman Chiropractic. The thing I love most about working here is the amazing people you meet. Knowing that what we do truly helps them and helps them to stay well is even better!
Schedule an appointment at one of our locations below: